[:fi]
Langatonta yhteyttä ei useinkaan nähdä tarpeeksi toimintavarmana yrityksen ainoaksi Internet yhteydeksi. Kuitenkaan kuituliittymä ei aina ole mahdollinen sijainnin ja/tai hinnan vuoksi.
Tarjoamme puolueetonta eri operaattorien 4G-palvelujen suorituskyvyn vertailua sekä konsultointia yhteyden parantamiskeinoista. Liittymän ominaisuuksilla ja päätelaiteratkaisuilla on merkitystä lopputulokseen.
Vaativissa kohteissa on monitiereitityksella ja VPN-ratkaisuilla saatavissa lisäparannusta. Esim. Peplink –tuotteilla voidaan toteuttaa load balancing ja bandwidth bonding –ratkaisut, joilla useampi yhteystapa ja/tai operaattori toimivat saumattomana kokonaisuutena.
Esimerkkitekniikoita, joita voidaan yhdistellä kokonaisuuteen:
– 4G LTE (yksi tai useampi operaattori, Elisa, DNA, Telia/Sonera)
– 460MHz LTE (Ukkomobile)
– Satelliitti Internet (Tooway)
– Mikroaaltolinkit (esim. Ubiquiti AirFiber)
Bandwidth bonding -teknologiaan tarjoamme Speedfusion perustaisia ratkaisuja.
Laitteiden asennuspalvelut hoituvat myös kauttamme.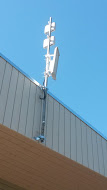 Kuvassa 5GHz WiFi sektoriantenni asennettuna. Yläpuolella lisäantennit kahden 4G operaattorin kiinteistön runkoyhteyteen.
---
---
[:en]Wireless connection as only company WAN connection is not often seen enough reliable and robust. Having a fibre connection is not always possible due to geographical and financial restrictions.
We provide neutral and independent evaluation of 4G and other wireless service providers. The right selection of subscriber profile and modem equipments is essential for a successful deployment.
However, by using advanced IP-routing and VPN solutions, the reliability and capacity can be improved to the level close or equal to fiber connections. By using Peplink product portfolio, we offer load balancing and bandwidth bonding multi-WAN solutions, which raise the wireless connectivity to a new level.
Example technologies to be used in multi-WAN routing:
– 4G LTE (one or multiple operators, Elisa, DNA, Telia/Sonera)
– 460MHz LTE (Ukkomobile)
– Satellite Internet (Tooway)
– Microwave links (Ubiquiti AirFiber) to Internet provider
For bandwidth bonding, we can offer Speedfusion technology based solutions.

Also installation services are being provided.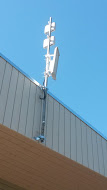 5GHz outdoor WiFi sector antenna deployment. Dual operator 4G antennas also installed.
---
---
[:]